The office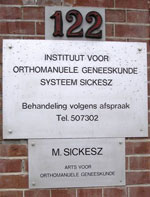 Contact us
Statenlaan 122
2582 GW
The Hague
The Netherlands

Phone: +31 (0)703 507 302
Fax: +31 (0)703 584 030
Our practice hours are Monday through Friday:
9:00 - 10:30 AM
11.00 AM - 12.30 PM
1:30 - 3:00 PM
3:30 - 4:00 PM
The practice is closed on Tuesday afternoon.
A fax machine is available 24 hours a day, 7 days a week: +31 (0)703 584 030. The answering machine does not take messages.
Next Appointment
Patients are usually seen within a week of the initial treatment and are provided with a summary of the findings which may also serve as a report for your house doctor. Care options for your condition will also be discussed during this appointment.